SANTORINI

FIRA

CABLE CAR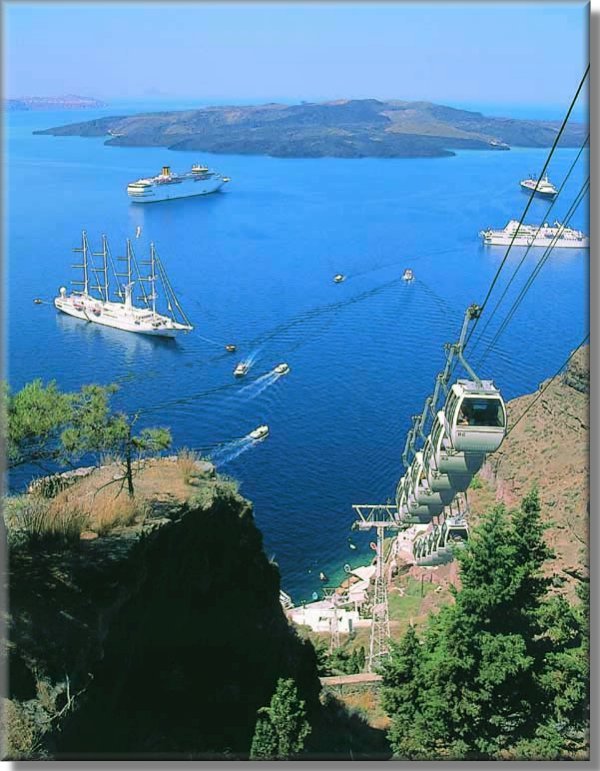 Loula & Evangelos Nomikos Foundation established in 1979 by the ship owner Evangelos Nomikos who gave all the expenses for the Cable Car purchase and installation. In addition to all the other offers, E. Nomikos has contributed much to the island. He mediated the transportation problem of the locals and mainly the thousands of tourists who visit it every year and decided to offer one of the most developed works of the Cyclades province. Its purpose is - according to the foundation's constitution, is to help the communities in developmental works. The Cable Car now belongs to the 14 communities of Santorini and this way the Greek regional administration is given a successful example of self management.

This is achieved without ignoring the traditional mule drivers who have offered so much, giving a unique beautiful sight to the island. The foundation approaches them with sympathy and compensation, paying them a percentage of the ticket price in order to help this tradition to survive.

Santorini's Cable Car serves 1200 persons per hour totaly and is constructed by Doppelmayr® according to the EU Regulations. At the same time, it gives value to Fira port, which has been devaluated by the difficulty of the access to Fira.
Please share your opinion of it with other travelers. Write a review!