SANTORINI

IRA HOTEL

Ira hotel wedding ceremony packages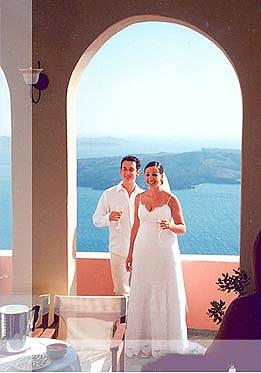 Renowned world wide for its bright and sunny weather, its unique volcanic landscape, its architectural and folklore attractions and its enchanting environment, Santorini, offering a magnificent and very romantic setting, is chosen by an increasing number of couples, as their wedding destination.
Greek law recognizes the right to all non-Greek citizens visiting the country to get married in legally binding civil and religious marriage ceremonies.
Celebrate your wedding on Santorini, in a romantic setting, on the edge of the sculptured caldera cliff, overlooking the blue Aegean sea and the small volcanic islands, under the colours of the enchanting sunset and the sound of the traditional melodies of the local violin players.
The location of our hotel makes it an ideal place for peaceful and quiet vacations and for very special celebrations like anniversaries and traditional island style civil wedding ceremonies.
If you are considering, or if you have decided to make Santorini your wedding destination, please get in touch with us, and Ira Hotel management and staff with their successful experience in planning and organizing such special occasions, look forward to assisting you in planning, coordinating and arranging of a traditional wedding ceremony. We can set the date, help you select the services of your preference and handle all the legal and paperwork requirements, make accommodation and excursion arrangements for you and your friends, and handle all the necessary preparations in order to offer you a perfect and truly memorable wedding celebration.


Please share your opinion of it with other travelers. Write a review!