SANTORINI

IRA HOTEL

The wedding is held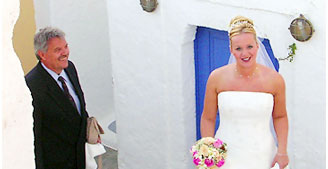 The wedding ceremony is held on the Ira Hotel open air lounge on the very edge of the caldera, 200 meters above the Aegean Sea, with a spectacular panoramic view of the volcano, the neighbouring islands and volcanic islets, or on the swimming pool terrace.
Consider Hotel Ira Wedding Packages, and please note, that by getting in touch with us, we can make arrangements to add or reduce services or to create together your own personalized package to suit your preferences and requirements.
Please share your opinion of it with other travelers. Write a review!