SANTORINI

ANIMALS

The rescue story of Thira Girl by Stacy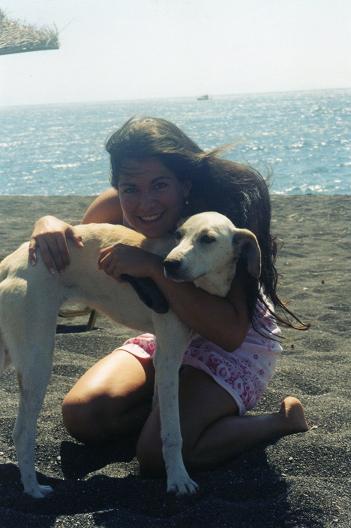 I was enjoying a wonderful afternoon of basking in the sun on a black sanded beach on the island of Santorini (where the lost city of Atlantis, is believed to be) with my best friend Lisa, when I felt a plump and scratch on my lap. I looked down, blinked twice, and saw that there was an adorable dog laying on my lap and knawing at my goggles in a desperate attempt to find anything to eat. Heart broken, because I had nothing to give her, I filled my goggles up with water and let her drink until my water was gone and desperately searched to find someone who could give me any type of food. Unsuccessful, I pet her for awhile and gave her some love (something she probably never experienced) and then saw her run away down the beach to continue her search for food, looking for anyone who could help her. My mind thought of one thing and one thing only. I got back to the hotel and knowing I had a flight to catch the next day, I immediately got on top of Thira's rescue and within the hour, I had the entire hotel staff searching for her, giving me contacts, numbers, agencies, etc. I went to my dad in tears because I wanted to find her so badly and he looked at me, smiled and nodded, and knew what I was about to do and not once did he try to stop me (or want to). He knew that within the month we would have another dog. There is honestly no better feeling in the world.

Called my mom and brothers the next day to tell them and of course, they knew I wouldn't stop until I had her here at home - I'll never forget my mom's first words when I told her, "Well, Saint Stacy saves the day, again. - LOL" Not quite but I'll take it. ;)

After weeks of searching for Thira and my hope of finding her starting to fade, I phone called Greece one night and got the wonderful news that she was found roaming the black sanded beaches in the town of Thirisia, on the island of Santorini, again looking for food and water. She was quarantined for 1 week and then sent on her journey to the states when Margarit (Vet) and her staff believed she would be finally capable of flying - First flight to Athens - flight to Zurich - Flight to ORD - Arrived July.

Her condition is improving: Rescued at less than half her normal weight, she is finally gaining back a bit but must be done gradually with the help of a Veterinarian.

After being bleach white with massive ticks all over her body (in clusters the size of quarters) and a horrific ear infection that almost resulted in the removal of her left ear - her color is finally coming in and her skin is healing.

Thira girl is plumping up and hanging with the pack! Trying to be the Queen. That's my Thira Girl! The only dog I've seen with long golden eye lashes and piercing golden red eyes. She finally has a belly on her and she's loving her new home (and toys) and never has to experience the horrific nightmare of fighting for her life everyday, on the streets of Greece again..

I thank my dad for allowing me to foster her and for helping me take care of her while she was here (and paying for the phone bill since I had to call Greece every night at 3am to see what the story was for oh, about 3 weeks - LOL), Margarit (Veterinarian on the island of Santorini), Freight Plus (transportation), Marijo Gillis (a true angel), the entire hotel staff who looked for Thira for weeks after I left, found her, and brought her to Margarit, the United States Center for Disease Control and Prevention, and the United States Department of Agriculture for giving Thira the "ok," to remain here in the United States (after official documents of quarantine, were presented).

Would I do it again? In a HEART BEAT.

Well Stacy a bravo and a thank you from the Travel to Santorini team!