SANTORINI

ANNIO

A little history about the island of Santorini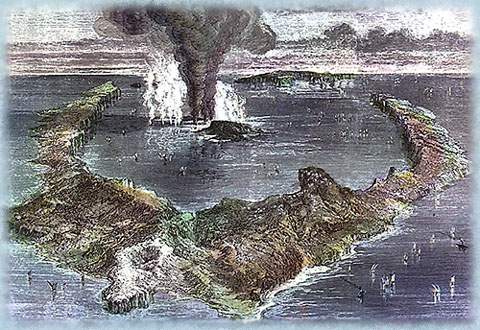 Santorini once was a small rocky island in the Aegean sea. Due to the volcanic Activity and numerous eruptions took place in this area during Pliocene Age. (12.000.000) years ago) several volcanic craters (7) appeared. These craters were united with this rocky island, formed an almost perfect circle called STROGHYLE which means round island.

After the formation of the island, there was a long period of no volcanic activity. But volcanic activity started again approximately in 1512 B.C. and a tremendous eruption took place, probably the most intense volcanic eruption until this present day, known as the Pumice Eruption. The island was buried by a tremendous quantity of pumice and volcanic ash.

It can be clearly seen today that the thickness of the pumice layer was over 100 ft (30 m) and at some point, over 150 ft (45 m). After the eruption a cavity of huge dimensions were formed under the central part of the island Stroghule.

Because of the size of this cavity, the top layer collapsed and the sea water rushed into the hollow, creating tidal waves. The scientists believed, that the height of the waves, were 690 ft (210 m).

Archaeological evidence, provides a fairly strong theory, that the origins of the Minoan collapse, around the 15th century was caused by Stroghule volcanic activity.

After, there was no other volcanic activities for 1300 years. In 198 B.C. there was a new volcanic eruption and a new island appeared. This small island, formed finally with further eruptions. (46 AD, 60 AD, 726 AD, 1457 AD, and 1508 AD), the present form, which we call today PALAIA KAMENI.

Later in 1573 AD after a new volcanic activity, a small oval islet appeared, which after various eruptions (1886 AD, 1925 AD, 1928 AD, 1939 AD, and 1950 AD) formed the island of อลม KAMENI. The last recorder volcanic activity in the area was in 1950 AD.

These are, with a few words, the most important events in the volcanic history of Santorini.